ADAM
Audio Domain & Access Management Software
Complete centralized control and management of your communication and security system TEMA IP-SIP Audio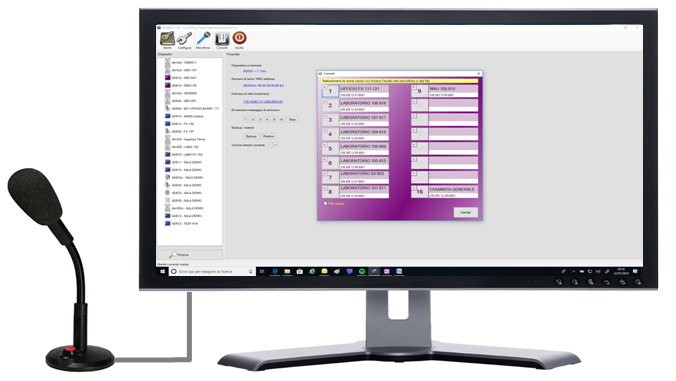 Audio Over IP LAN network Innovative Solutions, integrated to the IP-PBX and the security system
All services in one application
With ADAM, creating PA paging systems on the LAN has never been so easy.
The use of the existing infrastructure avoids the laying of expensive cables and makes the installation of the system fast, inexpensive and scalable, with a noticeable increase in the quality of the transmitted audio.
Total control of Tema IP audio terminals in the Network
Microphone announcements and audio file sending
Multi-Zone Microphone Console
Audio file sequences (PlayList)
Audio Clips for immediate sending
Monitor of Multicast transmissions From version 1.05
VoIP SIP & Peer-to-Peer Calls From version 1.05
Viewing cameras
From version 1.05
Digital Audio up to 44,1KHz, MP3
From version 1.05
Performances

ADAM
Free (*)
ADAM-03
Micro 3 Zones
ADAM-16
Console 16P
ADAM-32
Console 32P
ADAM-64
Console 64P
ADAM-128
Console 128P

Devices search on the LAN network

Configuration Backup/Restore

Web connection to the device

Generating an audio stream "Live"

VoIP SIP & P2P Calls (V1.05)

Microphone function for 3 zones

16-zone Console, Memories

32-zone Console, Memories

64-zone Console, Memories

128-zone Console, Memories (**)
( * ) The ADAM software and complete documentation can be downloaded free of charge from the Tema website in the full version (ADAM-16) usable for a duration of 30 days. After 30 days, if the license is not purchased, the FREE version will remain active for the supervision of all devic-es and base functions (see table above).

(**) ADAM versions with Console function are available over 128 zones/buttons up to over 1.024 zones
Audio Digitization
8 – 16 – 32 – 44,1KHz – WAV, MP3
Codec
G711, G722, Linear PCM
Number of manageable terminals
over 1.000 IP audio terminals in the network
Compatibility
Tema AD600, AA-500-600 products series
Availability/Licenses
free full version downloadable via Web for 30 days, can be converted on a fee at the expiration
Access
with multilevel password and administrator-programmable privileges
Videoconsole software
included, 16 selectable zones or groups
VoIP support
including SIP protocol for integration with any type of IP-PBX on the market
Languages
English, Italian
Software customization
on request it is possible to realize software on customer's specifications
| | |
| --- | --- |
| Operating system | Windows 7/8/10 or higher |
| CPU | better than 2,8 GHz |
| Hard disk capacity | 250GB minimum |
| RAM | 4 GB, suggested 8 GB |
| LAN network board | standard 100Mbit/Gigabit |
| Audio board | SB Windows compatible |
| Microphone | jack 3,5mm input |
| Line output | jack 3,5mm – 0dB 150 Ohm |
| Speakers | local, standard stereo |
| Monitor | VGA 800×600 minimum |
| Keyboard, Mouse | standard |
The TEMA complete solutions offer
Tema produces all the necessary components for the realization of IP Paging systems on the LAN network, integrated with the VoIP tele-phone system, the security system and video surveillance.